Open for Business
WE'RE HERE AND READY TO HELP.
As long as our team is healthy and able, and the government allows us to remain open, we will continue to serve your automotive needs. However, we've made some changes to help keep our customers and employees safe.
While I know we've always been clean (Gloria and her crew have been cleaning our entire dealership thoroughly every night for many years now) we are going the extra mile to combat COVID-19. We hired a full-time employee to walk around the dealership and disinfect high traffic areas for our customers and employees (e.g., door handles, vending machines, credit card machines, desks, chairs). Our staff are frequently washing hands and cleaning work stations throughout the day. We are also refraining from shaking hands right now so please don't take it personal.
SERVICING
For those of you that would rather stay home, our service department has implemented a pick-up and delivery service for vehicle repairs and quick lube maintenance. We will come to your home or office, pick up your vehicle, leave a loaner (if needed) and bring it back. Payments can be made over the phone and we will even disinfect your vehicle upon return. Call our service department and ask for Steve to set a pick-up time at 281.592.2644
RELIEF FOR OUR CURRENT CUSTOMERS
For our existing General Motors Financial customers, we ask that they contact us to discuss their personalized payment options. We can best address each customer's unique scenarios through direct dialogue; this is why it's so important for them to contact us directly. GM Financial customers can:
Text INFO to 53721
Message us through the GM Financial mobile app
Contact the GM Financial Customer Experience team at
1-800-284-2271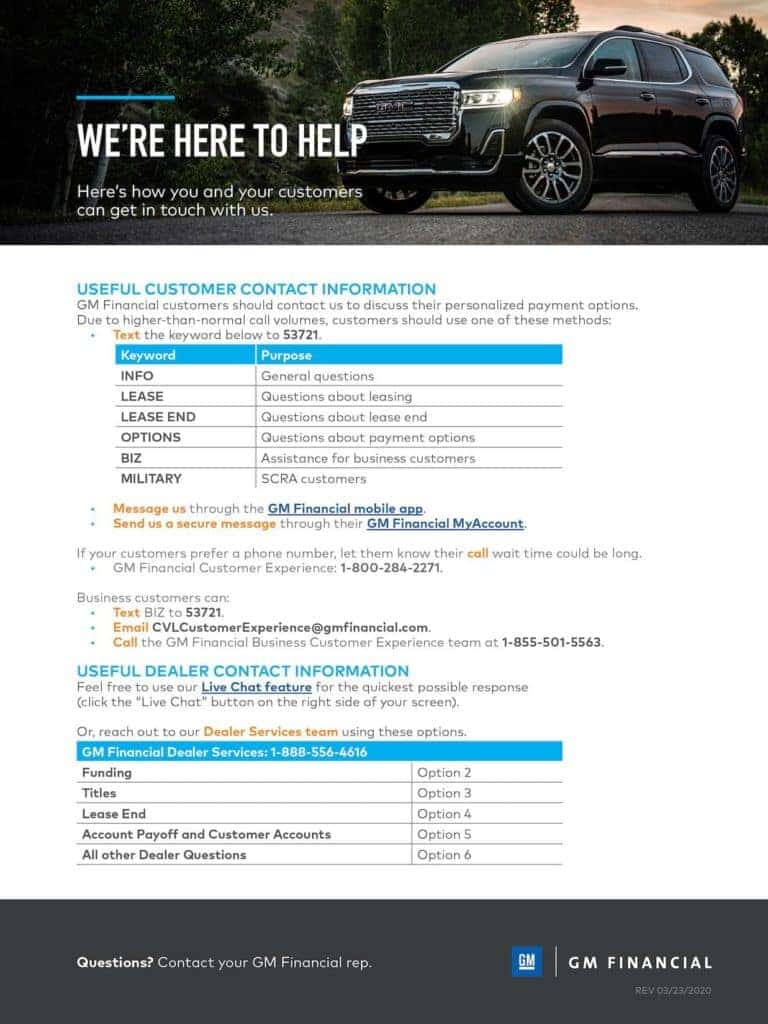 FREE RESOURCES
For current owners of a General Motors vehicle, you now have free internet in your vehicle for three (3) months! Need an extra hotspot to work from home? Now you've got it! General Motors is also paying for all vehicle owners to access free emergency assistance on OnStar until March 31st.
Purchasing
For those of you in the market for a new vehicle, we implemented a new online tool (way before the introduction of corona) that will give you a drive out price. It's a great research tool you can use while shopping at home. If you decide to pull the trigger on a purchase, you can buy online and opt for home delivery. Look for the button "Create Your Deal". General Motors just announced 0% for 84 months and deferred payments for four (4) months.